Interested in starting your own entrepreneurial journey in health and wellness but unsure what to expect? Then read up on our interview with Effie Love, owner of About Balance, located in Brighton, England, UK.
What's your business, and who are your customers?
We are a low-cost, fair trade, well-being centre. We believe in making treatments affordable and sustainable to all and ensuring that our team is being really well paid!
Tell us about yourself
I've been an acupuncturist and a yoga teacher for many years; working in the industry, I realised it needed things to be done differently, so I went ahead and changed them :)
What's your biggest accomplishment as a business owner?
Seeing the happy shiny people coming and going, leaving happy and feeling better and better.
What's one of the hardest things that come with being a business owner?
Hell, is other people in it?! So running a team is hard, but it's all a work in progress, and it's also really fun.
What are the top tips you'd give to anyone looking to start, run and grow a business today?
Don't walk before you run. Or 'don't quit your day job yet...'. I think it could be super stressful when you need to make your living from what you love. Wait until your day job stops you from thriving in your new business and then explode on it!
Is there anything else you'd like to share?
Follow your dreams! (but make sure they are viable!)
Where can people find you and your business?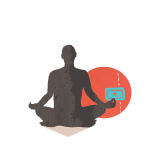 ---
If you like what you've read here and have your own story as a solopreneur that you'd like to share, then email community@subkit.com; we'd love to feature your journey on these pages.
Feel inspired to start, run or grow your own subscription business? Check out subkit.com and learn how you can turn "one day" into day one.